2 Mar, 2020
Will Ferrell et Paul Rudd feront partie du casting d'une nouvelle série nommée The Shrink Next Door, inspirée du podcast du même nom. Pour l'heure, aucune chaîne ou plateforme de streaming n'a été mentionnée pour ce projet.
The Shrink Next Door, nouvelle série en préparation
L'acteur, scénariste, humoriste et réalisateur américain Michael Showalter est aux commandes de la prochaine série, The Shrink Next Door, dont l'histoire est tirée d'un podcast en six parties, développé par Bloomberg et Wondery et lancé en mai 2019.
Paul Rudd et Will Ferrell au casting de cette production
Après s'être donné la réplique dans Légendes Vivantes en 2013, les deux acteurs se retrouveront une nouvelle fois dans la série The Shrink Next Door. Paul Judd retrouvera donc Michael Showalter, sous l'égide duquel il avait déjà travaillé dans Wet Hot American Summer. À noter que les deux comédiens agiront aussi comme producteurs exécutifs de cette réalisation.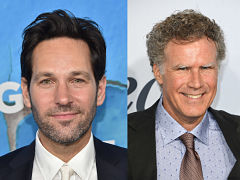 Une relation psychiatre-patient, l'histoire de cette série
La série The Shrink Next Door tournera autour de la relation entre un psychiatre et l'un de ses patients. Avec le temps, le médecin nommé le Dr. Isaac « Ike » Herschkopf commence à devenir trop proche de Marty, au point d'interférer dans sa vie. Celui-ci s'installera même chez son patient et prendra les rênes de son entreprise.
D'autres projets pour les deux acteurs américains
En plus de The Shrink Next Door, les deux acteurs peuvent aussi être vus dans d'autres productions. Will Ferrell est au casting de la comédie dramatique Downhill sortie le 14 février dernier aux US. Quant à Paul Rudd, il était au générique de Living with Yourself.