8 Sep, 2020
Les fans de The Crown devront prendre leur mal en patience après la quatrième partie de la série royale, car la saison 5 sera diffusée deux ans après, soit en 2022.
Série The Crown : la saison 5 repoussée !
Tandis que la quatrième partie de la série sortira cette année à la télévision, la saison 5 de The Crown a quant à elle été repoussée à 2022, une tactique déjà adoptée par le géant du streaming entre les 2e et 3e saisons. D'après Deadline, le tournage devrait commencer en 2021.
Saison 5 : un dernier changement de casting pour la série
Lors de la pause de deux ans ayant eu lieu entre décembre 2017 et novembre 2019, les membres du casting de The Crown avaient changé. Olivia Colman s'était substituée à Claire Foy dans le rôle-titre, soit celui de la Reine Elisabeth II, tandis que Tobias Menzies et Helena Bonham Carter s'étaient respectivement glissés dans la peau du prince Philip et de la princesse Margaret.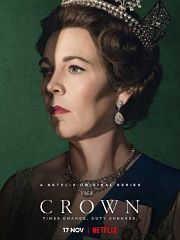 Une fois encore, The Crown aura droit à un changement de casting pour sa saison 5. Cette fois, c'est l'actrice britannique Imelda Staunton, connue pour le rôle de Dolores Ombrage dans Harry Potter, qui incarnera la Reine d'Angleterre dans la production télévisée. La comédienne Lesley Manville, récemment vue dans Maléfique, sera quant à elle la princesse Margaret. Celui qui incarnera le prince Philip dans l'avant-dernière partie de la série n'a cependant pas encore été dévoilé.
Retour sur l'intrigue de cette production télévisée
Très appréciée des téléspectateurs, la série The Crown met en lumière la vie de la Reine Elisabeth II depuis son mariage en 1947 jusqu'à maintenant. Après la saison 5, la production télévisée bénéficiera aussi d'un 6e opus, qui devrait être le dernier.