31 Mai, 2023
Les fans de Spider-Man se donnent rendez-vous à compter du 31 mai 2023 pour la sortie du nouveau film « Across the Spider-Verse ». Enfants et parents pourront retrouver Miles Morales, l'adolescent de Brooklyn ainsi que les super-héros des autres dimensions dans une nouvelle aventure signée Marvel.
Spider-Man: Across the Spider-Verse, nouvel épitome
Reprenez les mêmes héros que dans l'épisode « New Generation », sorti en 2018, et donnez leur la mission de sauver l'univers et toutes ses dimensions, voilà le synopsis de ce nouveau Spider-Man ! Le premier long-métrage d'animation avait d'ailleurs séduit le grand public et avait été acclamé pour ses prouesses graphiques et sa bande-son originale. Ce style, inspiré des bandes dessinées d'origine, peut être apprécié dans le jeu mobile Spider-Man: Lances-Toiles. Celui-ci propose d'incarner Peter Parker dans un gameplay d'aventure et d'action avec une vue à la première personne.
Les films Marvel pour toute la famille
Si le film Spider-Man: New Generation a engrangé plus de 35 millions de dollars au box-office l'année de sa sortie et cumulé plus de 215 000 entrées en France, il est possible de parier sur le nouvel épisode des aventures de Miles Morales. Le jeune adolescent est d'ailleurs l'une des représentations de l'Homme Araignée les plus rafraichissantes. Métisse, avec des origines latino-africaines, il possède de nombreuses qualités communes avec son prédécesseur, Peter Parker.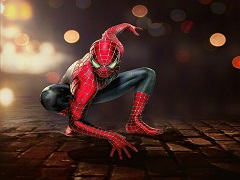 Miles Morales, le super-héros des enfants
Petits et grands sont fans de ce personnage atypique au grand cœur ! Ce Spider-Man est donc plus proche des enfants en matière d'âge, ce qui aide à créer le lien avec le grand public. Le scénario est également captivant puisqu'il propose plusieurs versions et incarnations du super-héros de Marvel. Puisqu'il s'agit de sauver le multivers, Miles Morales rejoindra Spider-Woman (Hailee Steinfeld), Spider-Man 2099 (Oscar Isaac) ainsi que l'amusant et cynique Spider-Man cochon, Peter Porker.
La franchise à succès de l'Homme Araignée
Le nouveau film d'animation pour enfants et parents sort dans les salles françaises le 31 mai. Profitez-en pour voir ou revoir les épisodes et spin-off de cette franchise très populaire de Marvel. Le long-métrage « No Way Home » avec Tom Holland avait aussi réuni les Peter Parker d'autres dimensions incarnés par Tobey Maguire et Andrew Garfield.