10 Juil, 2020
Pour l'adaptation du jeu vidéo post-apocalyptique « The Last of Us », le réalisateur Johan Renck s'est associé au scénariste Craig Mazin. Ce dernier avait déjà embarqué dans le projet dès que HBO l'avait annoncé en mars 2020.
« The Last of Us » est un jeu PlayStation
Se déroulant dans un monde post-apocalyptique, « The Last of Us » est un jeu vidéo qui raconte les aventures d'un vétéran bourru nommé Joël et d'une adolescente, Ellie. Cette dernière semble être naturellement immunisée contre une mystérieuse peste. Les deux personnages sont en quête d'un antidote.
La réalisation de la série a été confiée à Johan Renck
Johan Renck est notamment connu pour avoir réalisé plusieurs clips musicaux pour Madonna, Beyoncé ou encore David Bowie dans les années 90. Avant de signer l'adaptation de « The Last of Us » en série sur HBO, le Suédois a également été à l'origine des épisodes de la fiction « Breaking Bad », « The Walking Dead » ainsi que « Vikings ».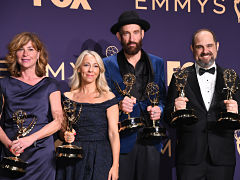 Le scénariste de cette déclinaison télévisuelle
En plus du nouveau projet télévisuel « The Last of Us », dont le casting n'a pas encore été dévoilé, Craig Mazin a également participé à l'écriture des deux derniers volets de la trilogie « Very Bad Trip ». Les troisième et quatrième opus de « Scary Movie » ainsi que la déclinaison du jeu « Borderlands » sur petit écran ont aussi bénéficié de sa participation.
Le jeu « The Last of Us » est sorti en 2013
Le jeu d'action-aventure en vue à la troisième personne, de type survival horror est sorti en 2013. Il a été édité par Sony Computer Entertainment et développé par Naughty Dog sur PlayStation 3.