18 Fév, 2020
Viola Davis jouera dans une nouvelle série destinée à être diffusée sur la chaîne câblée Showtime. Dans ce feuilleton, l'actrice prêtera ses traits à une ancienne Première Dame.
Viola Davis : l'actrice participe à un nouveau projet télévisuel
En plus de tenir un rôle dans la nouvelle série « First Ladies », Viola Davis sera également la productrice exécutive de cette réalisation selon un tweet de la chaîne. Dédié aux épouses de présidents, le feuilleton sera axé sur la vie dans l'aile est de la Maison Blanche, où se situent les bureaux de la Première Dame.
« First Ladies » met en scène Michelle Obama
Michelle Obama, l'une des personnalités américaines les plus populaires, est déjà au cœur d'un petit film intitulé « First Date » sur le début de sa relation avec Barack Obama. Cette fois, elle fait l'objet d'une série avec l'actrice Viola Davis. Son autobiographie, « Devenir » sorti en 2018 a connu un grand succès à travers le monde.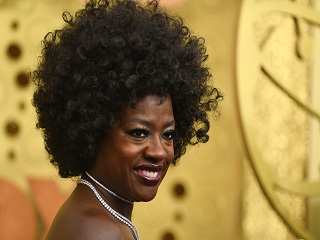 Deadline révèle d'autres informations sur la réalisation télévisuelle
Selon le site américain Deadline, Michelle Obama n'est pas la seule femme sur laquelle la fiction sera axée. La 1ère saison devrait également mettre en scène Eleanor Roosevelt ainsi que Betty Ford qui ont été les Premières dames de 1933 à 1945 et de 1974 à 1977 respectivement.
L'actrice Viola Davis primée plusieurs fois durant sa carrière
Cette actrice, âgée de 54 ans, a été nominée trois fois aux Oscars avant de l'emporter en 2017 pour son second rôle dans « Fences ». En 2015, Viola Davis avait également reçu un Emmy Award pour « How to Get Away with Murder ».