19 Mar, 2021
Alors que le sixième volet de « Outlander » n'est pas encore sorti, sa septième salve a déjà été commandée. Les stars de la série, dont Caitriona Balfe ont confirmé la nouvelle dans une vidéo.
Obtenez les dernières infos sur « Outlander »
La chaine américaine Starz a révélé que « Outlander » aura droit à une suite. En effet, la série fantastico-historique sera renouvelée pour une septième salve. Cette dernière sera composée de 12 épisodes et sera basée sur le roman « An Echo in the Bone » de Diana Gabaldon, paru en 2009.
Retrouvez Caitriona Balfe et Sam Heughan dans cette suite
Comme pour les précédents volets, la saison 7 de ce programme télévisé sera portée par Caitriona Balfe. Cette actrice sera une nouvelle fois accompagnée par Sam Heughan. Sophie Skelton ainsi que Richard Rankin seront également de retour dans la série de Starz signée Ronald D. Moore.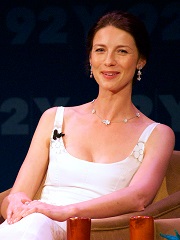 Informez-vous sur le 6e opus de la saga
Le sixième volet de cette production de Starz est actuellement en tournage en Écosse. Le filmage de ce chapitre a été retardé à cause de la pandémie du coronavirus. Il s'agit d'une adaptation télévisuelle du livre « A Breath of Snow and Ashes » ou « Les Canons de la Liberté » et se déroulera en 1772.
Découvrez si « Outlander » aura de nouvelles suites
Du début à sa saison 7, « Outlander » est adapté de la saga littéraire de Diana Babaldon, composée de 8 livres. La romancière travaille actuellement sur son neuvième ouvrage. Reste à savoir si le programme télévisé s'arrêtera ou s'il aura suffisamment d'audience pour se poursuivre.