2 Avr, 2021
Le jeune papa de 24 ans enchaîne les projets. Il vient de publier les visuels de sa nouvelle chanson intitulée « Bebeto » en featuring avec le rappeur Soolking.
Visionnez « Bebeto » sur la Toile
L'interprète de « Les yeux de la mama » continue de promouvoir son nouvel album « Mi Vida ». Ces dernières semaines, il a dévoilé plusieurs clips dont « Evidemment » aux côtés d'Ilona Smet. Il a livré celui d'un nouveau single ce mardi 30 mars intitulé « Bebeto ». Il a passé un week-end à Marseille pour le tournage du clip.
Retrouvez Soolking sur ce morceau
Pour le clip, le chanteur français s'est entouré de l'Algérien Soolking. Les deux artistes se retrouvent près du port des Goudes. Avec l'annonce de l'arrivée de la vidéo, Kendji Girac encourage ses fans à « faire la fête, danser et chanter ». Il lance également un challenge en mettant au défi son public de reproduire la chorégraphie.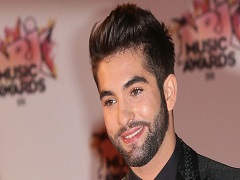 Obtenez plus de détails sur ce titre
Les protagonistes unissent leurs voix sur le single romantique sur fond de rivalité. Ils chantent la sérénade au beau milieu d'une fiesta en pleine journée, où les cocktails coulent dans « Bebeto ». Le coach de « The Voice Kids » se compare au célèbre footballeur brésilien Bebeto.
Un point sur les nouveautés de l'artiste
Révélé lors de la saison 3 du concours de chant The Voice, le musicien a connu le succès dès son single « Color Gitano ». Son dernier opus compte plus de 150 000 ventes. Et ce moment, il travaille sur une réédition et imagine déjà un cinquième disque.