5 Oct, 2020
Le chanteur Justin Bieber revient avec une nouvelle chanson à la clé. Intitulé « Holy », ce single est enfin disponible en ligne. Pour info, cette composition est également accompagnée d'un clip !
« Holy » de Justin Bieber est sorti !
Le tout nouveau morceau de Justin Bieber qui s'intitule « Holy » est enfin accessible en ligne ! Ce single du chanteur canadien est le fruit de sa collaboration avec Chance The Rapper. À savoir que ce n'est pas la première fois que les deux artistes se retrouvent sur un son. Ils avaient collaboré sur « Confident », « No Brainer » et « Juke Jam ».
« Holy » marque le come-back de Justin Bieber
La sortie du single « Holy » marque le come-back de Justin Bieber après son cinquième album studio « Changes ». Petit rappel : cet opus, qui a été publié le 14 février dernier met en avant des hits comme « Forever » en featuring avec Post Malone et Clever, « Intentions » avec Quavo et « Take It Out on Me ».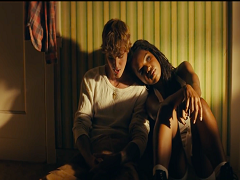 Zoom sur le clip du morceau
Le clip de « Holy » de Justin Bieber et Chance The Rapper a été mis en scène par Colin Tilley, à qui l'on doit de nombreuses vidéos pour Chris Brown, J Balvin, mais aussi, le récent « WAP » de Cardi B et Megan Thee Stallion. La chanson des deux artistes fait notamment référence aux conséquences sociales de la pandémie du coronavirus.
Sa prochaine tournée prévue pour 2021
Après avoir été forcé d'annuler sa tournée qui était prévue pour cette année à cause du COVID-19, le chanteur canadien a levé le voile sur les dates de celle qui devrait avoir lieu en 2021. À noter que la tournée comprendra 45 concerts au total !