18 Mai, 2020
L'actrice de la série dramatique « Gossip Girl », Blake Lively, poursuit sa carrière avec un thriller. En effet, elle sera la vedette et la productrice de « Dark Days at the Magna Carta ».
« Dark Days at the Magna Carta": Blake Lively au casting
En préparation depuis fin 2019, « Dark Days at the Magna Carta » a trouvé son actrice principale. Il s'agit de la comédienne américaine Blake Lively. Cette dernière se glissera dans la peau d'une femme qui fera tout pour sauver sa famille d'une catastrophe apocalyptique.
L'actrice sera aussi la productrice du thriller
Blake Lively sera non seulement en tête d'affiche de « Dark Days at the Magna Carta » mais elle en sera aussi sa productrice. Via sa société B for Effort, elle travaillera aux côtés de Kate Vorhoff et de Dan Cohen. Michael Paisley écrira le scénario de ce thriller inédit. Ce nouveau film pourrait devenir une trilogie si le premier volet rencontre du succès.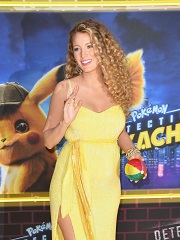 Le scénario du film abordera le thème de l'isolement
L'intrigue de « Dark Days at the Magna Carta » suivra l'histoire du personnage campé par Blake Lively. Suite à des événements exceptionnels, elle tentera de survivre avec sa famille en ayant recours à des mesures extrêmes. Les thèmes de l'isolement et de la famille traités dans le long-métrage coïncident avec la crise sanitaire mondiale actuelle.
Blake Lively à l'affiche d'une réalisation de Reed Morano
Pour rappel, la comédienne américaine s'est convertie en tueuse dans « Le Rythme de la Vengeance » de Paramount Pictures. Ce film, réalisé par Reed Morano, a été dévoilé en version numérique en avril.