19 Nov, 2019
L'acteur américain Chris Pratt ajoute son nom au casting du film The Tomorrow War. Il sera le personnage clé de ce long-métrage de science-fiction.
Chris Pratt intègre la distribution du film The Tomorrow War
Anciennement connu sous le nom de Ghost Draft, le film The Tomorrow War accueille l'un des acteurs les plus en vue d'Hollywood à son bord. Chris Pratt fera en effet partie de la distribution de cette production cinématographique. Celle-ci fera son apparition le 25 décembre 2020 en Amérique, révèle l'AFP.
L'intrigue de ce long-métrage de science-fiction
Comme son nom le suggère, le film The Tomorrow War suivra le périple d'un homme désigné pour mener un combat dans le futur. Alors que le sort de l'humanité entière repose sur ses capacités à résoudre des problèmes du passé, ce personnage qui sera joué par Chris Pratt devra tout mettre en œuvre pour réussir sa mission.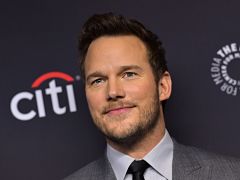 L'acteur sera dirigé par Chris McKay
Dans The Tomorrow War, Chris Pratt jouera sous l'égide du cinéaste Chris McKay. Rappelons qu'il s'agit du réalisateur du film Lego Batman. Le scénario de ce long-métrage de science-fiction sera écrit par Zach Dean. Au casting, on retrouvera aussi Yvonne Strahovski, Mary Lynn Rajskub, ou encore J. K. Simmons.
Les autres projets cinématographiques du comédien
Le moins que l'on puisse dire, c'est que Chris Pratt dispose d'un emploi du temps très chargé. En plus de jouer dans le film futuriste The Tomorrow War, il travaille aussi sur les troisièmes opus de Les Gardiens de la Galaxie et de Jurassic World, attendus au cinéma en 2021. Il sera aussi au casting vocal de En Avant, qui fera son apparition le 4 mars 2020 en France.