6 Mai, 2020
L'actrice américaine Kaley Cuoco vient de décrocher un rôle dans le film « The Man From Toronto ». Ce dernier sera réalisé par Patrick Hughes.
Kaley Cuoco dans « The Man From Toronto »
L'ancienne star de « The Big Bang Theory », Kaley Cuoco, rejoint le casting du film « The Man From Toronto ». Pour l'heure, son rôle n'a pas été dévoilé. Après l'arrêt de la série de CBS, l'interprète de Penny a été recrutée pour jouer dans « The Flight Attendant » attendue sur HBO Max et a prêté sa voix à Harley Quinn dans le dessin animé du même nom.
Kevin Hart jouera dans le film
Le casting est déjà complet pour « The Man From Toronto ». L'actrice Kaley Cuoco donnera la réplique à l'humoriste Kevin Hart, qui incarnera un loser new-yorkais. L'acteur Woody Harrelson les rejoint en prêtant ses traits à un assassin expérimenté.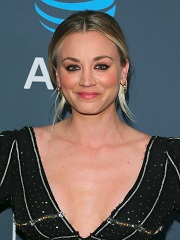 Synopsys de la comédie d'action
Ecrit par Robbie Fox et Chris Bremmer, cette nouvelle comédie d'action suivra la rencontre entre le plus dangereux des tueurs à gages et un baratineur de New York dans un logement Airbnb. Cette rencontre donnera un tournant étonnant à leur vie.
« The Man From Toronto » sortira en septembre
Alors que les dates de tournage n'ont pas encore été avancées, le studio Sony Pictures prévoit la sortie de ce long-métrage le 17 septembre 2021 aux Etats-Unis. La date de son arrivée dans l'Hexagone n'a pas encore été communiquée. Il faudra donc patienter encore au moins une année pour voir Kaley Cuoco dans cette réalisation.