10 Mar, 2020
Le mannequin et actrice canadienne Shay Mitchell ajoute une corde à son arc. La comédienne a été désignée pour incarner le nouveau parfum de la marque française Cacharel.
Cacharel : Shay Mitchell est la nouvelle égérie
L'entreprise de mode Cacharel a désigné Shay Mitchell comme nouvelle égérie. Pour cette collaboration, l'actrice mettra en lumière la nouveauté de la firme française. Il s'agit de « Yes I Am Fabulous », une ode olfactive à la fois audacieuse et sensuelle.
Le sillage du parfum « Yes I Am Fabulous »
Le parfum « Yes I Am Fabulous » de Cacharel s'ouvre sur des notes de poivre rose, de mûre et de rhubarbe. La fragrance évoque également des émanations de gingembre, de jasmin sambac et d'héliotrope. Les connaisseurs peuvent aussi remarquer des effluves de vanille et de lait de noisettes.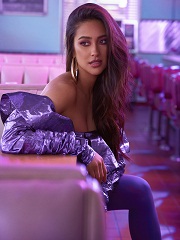 Un point sur la pub de la marque
Pour la réalisation de la campagne de lancement de cette ode olfactive, Cacharel a fait appel à So Me. Pour ce dispositif publicitaire, le top-modèle Shay Mitchell a pris la pose aux côtés d'autres influenceuses de renommée mondiale. À noter que l'élixir est accessible à la vente depuis le 24 février 2020.
Le top-modèle sera à l'affiche de « The Heiresses »
Prochainement, les téléspectateurs pourront retrouver Shay Mitchell dans une série télévisée inédite intitulée « The Heiresses ». Cette réalisation de Ina Marlene King sera composée de 22 épisodes et diffusée sur la chaîne ABC.