30 Mar, 2021
La distribution de la prochaine production cinématographique de Steven Spielberg commence à prendre forme. En effet, le cinéaste a engagé la star de « Séduis-moi si tu peux » pour incarner son oncle dans le long-métrage avec Michelle Williams.
Renseignez-vous sur le projet de Steven Spielberg
Un nouveau film sur les jeunes années de Steven Spielberg est en développement. Encore sans titre officiel, ce biopic élargit son casting. En effet, après l'annonce de Michelle Williams à la distribution, le metteur en scène révèle la participation de Seth Rogen dans cette production.
Apprenez-en plus sur le rôle de l'acteur dans le biopic
Dans cette réalisation, Seth Rogen se glissera dans la peau de l'oncle préféré de Steven Spielberg durant son enfance. Ce rôle est assez inédit pour le protagoniste, qui est devenu célèbre pour ses comédies comme « L'interview qui tue », « En Cloque, mode d'emploi » ou encore « Supergrave ».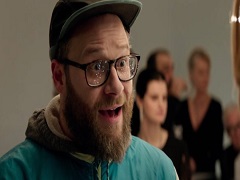 Par ailleurs, on retrouvera également Michelle Williams au casting. Elle incarnera la mère du cinéaste. Ce dernier travaille avec Tony Kushner sur l'écriture du scénario du biopic. À noter que le scénariste est un collaborateur de longue date du réalisateur depuis « AI » en 2001.
Suivez les infos sur les autres projets du producteur
Dans l'attente de ce film autobiographique, Steven Spielberg est engagé dans d'autres longs-métrages. Ainsi, il prévoit de sortir « West Side Story » le 8 décembre 2021. Il sera aussi derrière « The Kidnapping of Edgardo Mortara » et « Grant ».