18 Mar, 2021
À la recherche d'une série originale à voir ce mois-ci ? L'un des plus grands sites de streaming vidéo du moment vous propose plusieurs nouvelles séries TV, dont Sky Rojo et CAID.
Découvrez la série télévisée Sky Rojo
Ce nouveau mois sera riche en sorties de programmes originaux. Si vous avez aimé la série intitulée La Casa de Papel, vous devriez aussi apprécier Sky Rojo, du même réalisateur. Álex Pina revient avec une fiction qui suit les péripéties de trois femmes tentant d'échapper aux mains de Moisés et de Christian, travaillant pour le propriétaire du club qui les emploie. Sky Rojo est une série à suivre dès le 19 sur la plateforme de streaming américaine.
Ne manquez pas CAID sur votre petit écran
En deuxième lieu, le géant américain du streaming propose de regarder CAID, une nouvelle série française créée et réalisée par Ange Basterga et Nicolas Lopez. Adapté d'un long-métrage, ce thriller immersif plonge les téléspectateurs dans certaines cités françaises, où un réalisateur et son caméraman sont envoyés pour tourner un clip de rap. Contre toute attente, ils se retrouveront mêlés à une guerre de gangs. La série télé CAID est diffusée depuis le 10 mars à la télévision.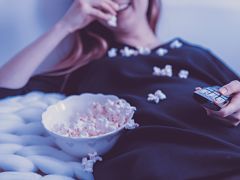 Visionnez Pacific Rim : The Black sur le Net
Fans d'animés ? Pacific Rim : The Black devrait vous plaire. Les abonnés au service de diffusion en continu peuvent visionner cette série depuis le 4. Il s'agit d'un dessin animé inspiré des films de Guillermo del Toro. Comme vous le verrez dans la bande-annonce récemment dévoilée, cette fiction nous emmène dans une Australie déserte, où un frère et une soeur tentent de retrouver leurs parents. Pour cela, ils devront faire face aux Kaijus, qui contrôlent désormais les lieux.
Séries télé : DOTA : Dragon's Blood parmi les nouveautés
Les amateurs de séries d'animation ayant un abonnement mensuel au service de streaming pourront regarder le premier épisode de DOTA : Dragon's Blood dès le 25 sur leur téléviseur. Cette série fantastique est une adaptation du jeu vidéo Dota et suit les aventures de Davion le Chevalier Dragon.
Source : allocine.com