30 Oct, 2019
Le studio américain Riot Games, créateur de League of Legends, compte innover en lançant de nouveaux contenus, mais aussi une série animée. La boîte n'abandonnera pas pour autant l'univers de ce jeu ayant fait son succès, et proposera Legends of Runeterra, un autre titre, en plus d'une version mobile et d'une pour consoles.
League of Legends, l'unique jeu de Riot Games
Cela fait déjà 10 ans que League of Legends, abrégé LoL, a fait son apparition sur la planète gaming. S'il s'agit du seul jeu vidéo de Riot Games, il est tout de même un titre qui a rencontré un grand succès auprès des gamers, avec quelque 100 millions de joueurs chaque mois, en dépit de l'arrivée de concurrents comme Fortnite. 
Une future version mobile et le titre Legends of Runeterra
Après tant d'années, Riot Games a finalement décidé de proposer du nouveau contenu. La société américaine prévoit donc de lancer une version mobile de son jeu League of Legends, mais également une déclinaison adaptée aux consoles. Par ailleurs, le studio a aussi annoncé son intention de se diversifier, notamment en intégrant l'univers des jeux de cartes, de tir en vue subjective ou encore de combat.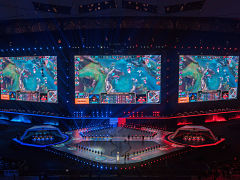 Riot Games a divulgué des informations sur un seul de ces titres. Il s'agit de Legends of Runeterra, dont l'intrigue se déroulera dans l'univers de League of Legends. Avec ce nouveau jeu, la société compte concurrencer Blizzard et son Hearthstone. 
Une série animée de l'entreprise de développement de jeux à venir
L'Américain Riot Games a également annoncé la création d'une future série animée sur l'univers du jeu vidéo League of Legends. Baptisé Arcane, ce projet a été confié à la boîte parisienne Fortiche Productions.