11 Avr, 2021
La marque de beauté dispose d'un nouveau visage international. C'est désormais l'acteur chinois Jackson Yee qui est l'égérie mondiale du maquillage et des soins de la peau d'Armani Beauty.
Jackson Yee ajoute son nom aux égéries de la griffe
Après d'autres grandes personnalités comme Cate Blanchett, Ryan Reynolds et Zhong Chuxi, c'est maintenant au tour de Jackson Yee de prêter ses traits à la marque de beauté. C'est un choix optimal, puisque le jeune homme de 20 ans seulement est considéré comme l'une des popstars les plus populaires en Chine et a une grande influence sur les jeunes.
Découvrez le produit que l'acteur chinois représentera
Depuis janvier 2020, Jackson Yee représente la filiale makeup de la griffe italienne en Chine. Il est aussi l'ambassadeur d'Emporio Armani depuis août 2020. Maintenant, l'acteur chinois vise un peu plus haut et apparaîtra dans la nouvelle campagne d'Armani Beauty pour le lancement de Neocream.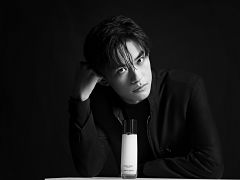 Ce produit adoptant une formule liquide-crème fait partie de la gamme de soins de la peau Crema Nera. S'il n'est pas spécifiquement destiné aux hommes, Véronique Gautier, présidente globale de la marque de beauté, indique que les messieurs s'intéressent de plus en plus à ce type de produits. Raison pour laquelle c'est un homme qui a été choisi pour le représenter. La nouvelle campagne avec Jackson Yee, réalisée par le photographe Tom Munro, sera révélée au monde entier au mois de mai 2021.
Connaissez-vous cette étoile montante de la scène mondiale ?
Malgré son jeune âge, Jackson Yee est incontestablement une étoile montante dans le monde. Il a joué dans plusieurs films (Better Days, The Little Prince, A Little Red Flower) et séries télévisées (The Longest Day in Chang'an, Song of Phoenix). La popstar a également été l'ambassadeur de Tiffany & Co.
Avec l'ETX Studio/AFP