23 Mar, 2021
La chanteuse américaine a été récompensée pour son single « No Time to Die ». Ce titre est la chanson-thème du prochain James Bond.
Renseignez-vous sur « No Time to Die »
Le prochain volet de James Bond a connu de nombreux problèmes de production. La sortie du film, intitulé « No Time to Die » a été repoussée à plusieurs reprises. Initialement prévu pour novembre 2020, puis avril 2021, le long-métrage est cette fois attendu pour octobre. Avant même sa sortie, il obtient déjà un Grammy Award pour sa bande originale.
Quelques détails sur les Grammy Awards
En plus de remporter le trophée de l'enregistrement de l'année pour « Everything I Wanted », Billie Eilish a également reçu un Grammy Award pour son single « No Time to Die ». Ce n'est pas la première fois que la chanson thème d'un James Bond est récompensée dans le cadre de cette cérémonie. Adèle Adkins et Paul Epworth l'avaient aussi gagné avec « Skyfall ».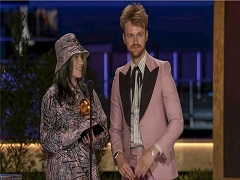 Découvrez les autres artistes qui ont reçu les trophées musicaux
Mis à part celle attribuée à « No Time to Die », deux autres récompenses musicales ont été remises à des musiciens ayant travaillé sur des BO de films. Le scénariste Taika Waititi a eu celle de la meilleure compilation pour « Jojo Rabbit » et Hildur Guðnadóttir a été primée pour sa musique du « Joker », de Todd Phillips.
Un point sur la carrière de l'artiste
L'interprète de « No Time to Die » est connue du grand public pour son timbre de voix très particulier et la mélancolie qui découle de ses morceaux. Elle a réalisé un documentaire « The World's a Little lurry », axé sur son 1er album.